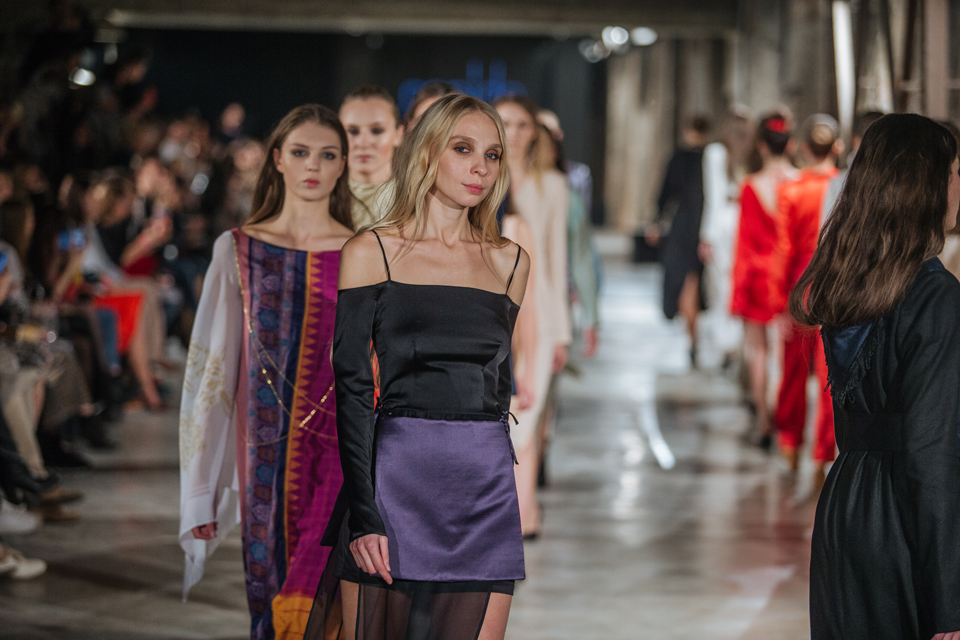 On October 13, as part of Lviv Fashion Week, the main location of Fest Republic hosted the show of Oppido Vintage Silk Upcycling - the winner of "Lviv Fashion Week for Eco" environmental program for Ukrainian designers, which is supported by the Ukrainian Cultural Foundation.
"Creating a collection of recycled vintage things was not easy. The main material was silk, and it has many nuances. Some of the dresses we had to sew several times, and silk as a material is too delicate, especially vintage silk. But now I can distinguish between a hundred types of silk and non-silk with my eyes closed, I know the nuances of processing, washing, ironing. It's not easy at all to find a pile of silk for the whole collection, especially the right color, texture and in good condition. From one shirt, for example, at best, you can have half of a sleeve for a jacket. One thing I can say now is that I'm an expert on sourcing, unstitching and combining.
Overall, I was satisfied with my work. But as a passionate, I would still work and work with the collection if it wasn't for a very narrow time frame. Viewers evaluated the collection from the point of view of the next show, most of them did not even realize that things were sewn from an upcycling vintage. For me, this was the best approving review. Therefore, I think I did it. At least a task, I set for myself from the very beginning. I plan to continue to work with vintage materials, and not only with silk, I will definitely move in this direction, I hope to receive support and positive feedback. One thing I know for sure - I like the understanding that I create beautiful new things in a beautiful way from the beautiful old things"- says Olena Lazorenko, Oppido designer.
The "Lviv Fashion Week for Eco" program included a 5-day training part and a competition among the participants for the best eco-oriented collection. The project, which was attended by 36 designers from different parts of Ukraine, was founded with the aim of popularizing sustainable fashion among designers and consumers, to demonstrate that the eco-theme is about high-quality, trends and perspectives, to intensify eco-activity in the work of Ukrainian designers. Consultations on the environmental component of the collections in determining the winner of the competition were provided by Zero Waste Lviv.
Ph: Igor Fedoriv