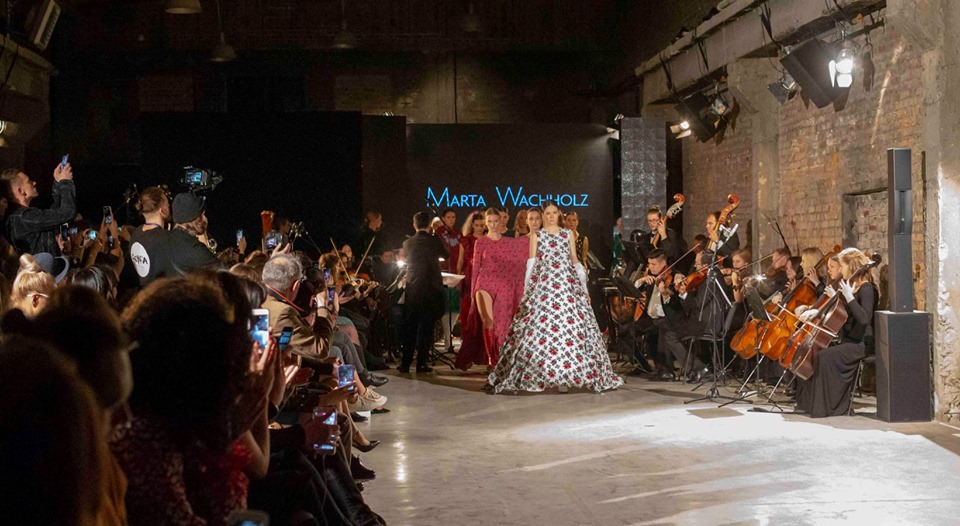 On October 10, as part of Lviv Fashion Week, the Lviv Orchestra Fashion project took place at Fest Republic. The presentation of the new SS 2020 collection by Marta Wachholz brand was accompanied by the INSO-Lviv symphony orchestra. The project was supported by the Ukrainian Cultural Foundation.
The Marta Wachholz SS 2020 collection captures Ukrainian folklore and its combination with modernity: the source of interpretations are the texts of folk songs, images of folk tales' heroes and an ancient rag doll "motanka".
Ivan Nebesnyi, a Ukrainian composer, music producer, and member of the National Union of Composers of Ukraine, created a symphonic suite based on the themes of famous Ukrainian folk songs specifically for this project. "As planned before meeting the designer, who presents her collection to the accompaniment of the orchestra, the musical piece is a symphonic suite using well-known Ukrainian song melodies. Since this is my first experience in writing music for a show, and Marta also had no experience working with an orchestra, then of course there should have been some period of acquaintance and "grinding in" to each other's ideas. With the first version of the music that I sent to Marta, I did not guess, because the models were not comfortable to walk to this music. But Marta sent me the sketches of her collection in order to somehow inspire the desired style. Impressed by her sketches, the music composition style was chosen: American minimalism with a Hollywood flavor, which is woven into Ukrainian folk melodies. Thus, a very peculiar musical accompaniment arose, which, in my opinion, fully reflects the "spirit" of Marta's collection", says Ivan Nebesnyi about a collaboration with Marta Wachholz.
Lviv Orchestra Fashion turned out to be unusual and vibrant, and most importantly - a successful cultural experiment, which attracted a large number of fans from both, the fashion industry and symphonic music, and left a very positive impression on all the guests of the event.
Ph: Alexandr Shamov, Igor Fedoriv