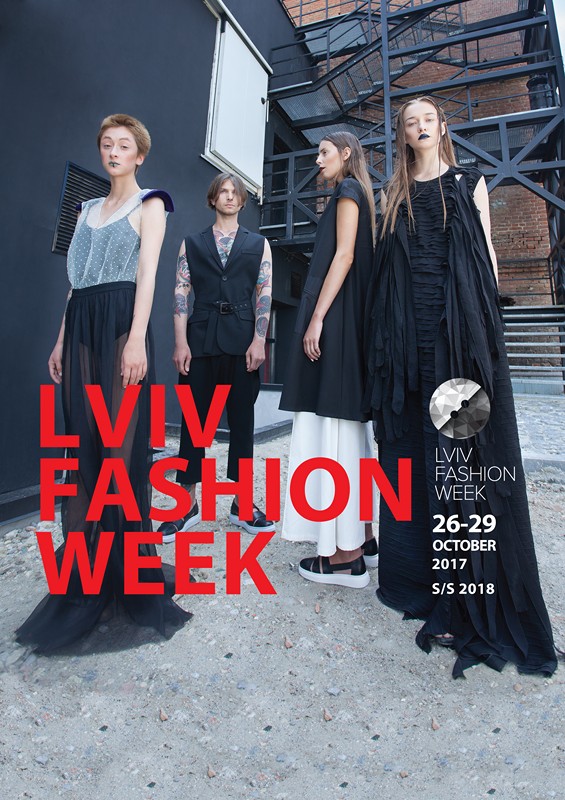 On October, 26-29 the XX Lviv Fashion Week will take place in Lviv. Lviv Fashion Week has been supporting Ukrainian designers for 10 years already, discovering new names and helping Ukrainian brands to be known outside the country. Owing to cooperation with the international partners Mad Mood Milano, Mystyle-events, Fashion Hall Berlin, Serbian Fashion Week, Eurasia Fashion Week, Asian Designer Week, TSCOF platform, our designers had an opportunity to present their brands in Milan, Berlin, Serbia, China, India.
Exhibition of Gianni Versace. Private collection by Alexandre Stefani
An exhibition of works of the legendary Italian designer Gianni Versace will become one of the main events and an opening of Lviv Fashion Week ХХ-th edition. The exhibition will be held in Potocki Palace on October 26-29. The Alexandre Stefani, Gianni Versace Private collection today count more than 500 items including lots of total looks of the most important collections and show in a deep and fascinating way the most important moments of Gianni Versace creative mind. For many years Alexandre has been studying Versace's creative activities and collected his works; in his researches he met a lot of Gianni's personal friends and colleagues and reached to purchase very important pieces - some of them were given to friend by Gianni himself, while others were purchased at charity auctions donated by celebrities.
In 2017 memorable events in honor of the prominent fashion designer, dedicated to the 20th anniversary of his death, are held throughout the world to which Lviv Fashion Week joins: in Ukraine Gianni Versace's works will be exhibited for the first time. Part of Alexandre Stefani's Gianni Versace collection has been shown at various events in Brazil, Poland, Germany.
Alexandre Stefani, a collector:
"I think the fashion history does not make justice to Gianni Versace talent, and remember him only for some cliché of oversexed ladies or flamboyant prints, I want to show a much deeper genius by sharing my collection with the world"  
Open hours of the exhibition "Gianni Versace. Private collection by Alexandre Stefani" in Potocki Palace: 10.00 a.m.-06.00 p.m., October 27-29
Partners: Mystyle-events, Lviv National Art Gallery, Fashion Philosophy Fashion Week Berlin
This season, shows of the main schedule will cover four days, and the main platform of Lviv Danylo Halytskyi International Airport will be involved for three days. Traditionally, Lviv Fashion Week presents not only new names, but also new locations. For the first time, the Machine Hall of the 10th Campus Building of Lviv Polytechnic National University will be involved, where the presentations of young designers and Kateryna Karol`s show will be held, while the Mykytyuk & Yatsentyuk show will take place at the new Sheptytsky Center.
In the program of the new season the Ukrainian designers dominate – Spring/Summer 2018 collections will be demonstrated by Marta Wachholz, Vozianov, Oksana Mukha by Kateryna Yalova, Lesia Semi, Kateryna Karol, Olesya Hryn, Couture de Fleur, Ivanna Yukhymchuk, Chernikova, Mykytyuk&Yatsentyuk, Tata Kalita, Jeisoni by Novitska, Yulia Fedetska, Olena Dats', Roksolana Bogutska. This autumn Lviv Fashion Week will be also visited by guest designers: Balossa (Italy), Rockmädchen (Germany), NAOKO (Poland), Tinatin Magalashvili, Ekaterine Buzaladze (Georgia), Aidar Khan (Kazakhstan). Within the framework of partnership with Mad Mood Milano, the new collection will be presented by Bulgarian designers Plik & Provocative.
Lviv Fashion Week traditionally promotes young designers - their shows will be held within the main program at Lviv International Airport and in the format of presentations. New collections will be presented by Burdo, Lyubasha Kyleshko, KartNatel, Vladyslava Matiyashek, Olesya Marchuk. Apart from presentations of new seasonal collections at Lviv Fashion Week the presentations of accessories will take place (Sakhro).
The main schedule of shows and presentations for Spring/Summer 2018 will be complemented by the educational program and the showroom. The expanded educational program includes lectures, discussions and workshops that will be held at the Design House on October 27-29. The new Fashion-dialogues, a project that aims to unite fashion industry workers in informal communication and productive discussions, this time will be dedicated to the topic "Fashion Photography as a Tool for Presentation of Brands", moderator - Lilia Sushko. The lecture program will include lectures under the topics "The Mechanism for the Ukrainian Clothing Manufacturers' entering EU Markets" (Olena Kudliak, Ukraine Investment & Trade Facilitation Center), "Advantages of British education: from primary school to univercity, with reflection on Fashion Industry" (Andrew Velhosh, "Vikno v London" company)," "Brand Positioning in the Fashion Industry: New Opportunities for the Young Fashion Market" "(Aysel Huseynova, 247RAARE Fashion Consulting),"Management in Fashion Business" (Mariia Ivasenko, Educational Center "Fast Fashion Education"), lectures and workshops under the topic "Fashion Illustration" (Marta Yatsyshyn, Anna Belokon, Commercial illustration school of Alice Grace). Fedir Vozianov will deliver a lecture on "Why do we need a Perfect Design in the Imperfect World" at the main location in Lviv International Airport on October 27.
Lviv Fashion Week showroom, in which nearly 30 Ukrainian brands take part, will be held at the main venue in Lviv International Airport on October 27-29.
Roksolana Bogutska show will be held outside the main program of Lviv Fashion Week – on Saturday November 4 in Mirotel Resort&Spa in Truskavets.