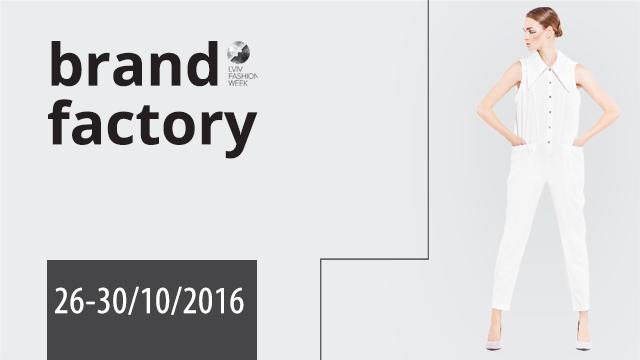 Lviv Fashion Week launches the program of collaboration with new Ukrainian fashion brands Brand Factory.
The program will consist of three parts: fashion battle, pop-up store and fashion school
fashion battle - is not even a contest, but competitions, directed to the new Ukrainian brands of clothes, footwear and accessories. The event will open the XVIII season of Lviv Fashion Week.
Designers will present their collections of five looks in three categories:
Brand collaboration – the result of collaboration of young Ukrainian brands should become an integral accomplished collection. Collaborative collection of two-three brands participate in the nomination – clothing-footwear / clothing-accessories / clothing-footwear-accessories
Urban style - modern casual, urban streetwear
Art fashion - radical clothes with experimental approach, the flight of artwork and creativity.
The designers distinguished by the expert will receive prizes from Lviv Fashion Week partners. The organizers of the International Contest of Clothes' Designers "The Golden Thread" (Poland) will choose a brand among the participants regardless of the category that will participate in the contest final in Lodz in May 2017.
26.10 - art space and photo studio Art Studio Passage
pop-up store – showrooms of clothes, footwear and accessories from the participants of fashion battle, which will take place during four days, 27-30 October 2016 at two locations:
27-28.10 - shopping gallery in "Opera Passage" 
29-30.10 - art space and photo studio Art Studio Passage
fashion school in fact continues the lectures, conducted by Lviv Fashion Week, however within the Brand Factory Project they are advanced, structured and include three formats: a workshop, a lecture, a meeting. All components of the program are focused on the specifics of work of the creative industries and practical knowledge needed to create and promote your own brand.
The participants of Brand Factory will also be able to hold a mini-presentation of their brands in the format of the meeting - 15 minutes each.
29-30.10 - art space and photo studio Art Studio Passage
Partners:
fashion battle - International Contest of Clothes' Designers "The Golden Thread" (Poland) 
pop-up store - shopping gallery in "Opera Passage" and
the main space of the event - art space and photo studio Art Studio Passage in Zavod Republic http://artstudiopassage.com/
fashion school - Creative Industries